Attractions
Five minutes directly west of Villa Napa is the beginning (southern end) of the Silverado Trail, off of which there are many wineries. Another 3 minutes west will take you to downtown Napa, with its quaint shops & restaurants, the Copia (a center for wine, food & the arts) & the Napa Wine Train. On the other side of the river in downtown Napa is the Greenhaus European Day Spa. If you enjoy boating, you can cruise or canoe down the Napa River.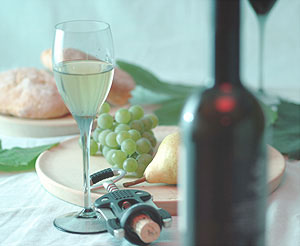 Continuing west a few more minutes will take you to Highway 29 , the main thoroughfare of the Napa Valley, off of which there are many more wineries & wonderful restaurants. Just North of Napa is Yountville, from which you can take a balloon ride or go biking alone or with a tour at Napa Valley Bike Tour. Continuing a bit further on Hwy 29 will bring you to the Oakville Grocery store , where you can pick up everything you need for a picnic lunch. Twenty minutes north on Highway 29 is St. Helena, which has unique shops. Another 20 minutes north of St. Helena is the spa-town of Calistoga.
Trails for hiking & biking, horseback riding, as well as picnic grounds are less than 5 minutes southwest of Villa Napa at Skyline Wilderness Park. Tennis courts for public use are minutes away. The Chardonnay Golf Club is less than 15 minutes southwest of the property. A day trip to San Francisco is about an hour & a half southwest; on the way is the charming boat-town of Sausalito.